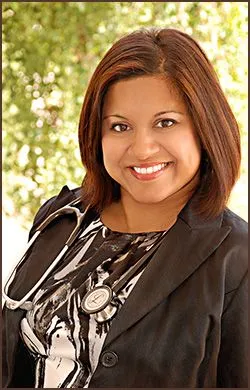 Vandana Young is a certified physician assistant. She enjoys working with patients of all ages from seniors to young children.
Vandana earned a Bachelor of Science degree with an emphasis in Health Fitness in Preventive and Rehabilitation from Central Michigan University in Mount Pleasant, Michigan. She continued her studies there and earned a Master of Science degree with an emphasis in Physician Assistant Studies.
Since then, she has worked as a physician assistant in hospitals, urgent care offices, and family physician practices. Vandana works with the Pinnacle Family Medicine physicians to provide the highest standard of primary care.
Vandana is an established physician assistant that provides patient assessment, counseling, education, diagnosis, medications, treatment plans, and laboratory directives. In addition to providing care for acute and chronic illnesses, Vandana also performs well-woman exams, general exams on patients of all ages, and sports physicals.
Certifications/Licenses:
Licensed with National Commission on Certification of Physician Assistants
Licensed with Arizona Regulatory Board of Physician Assistants
Advanced Cardiac Life Support certified
Basic Life Support certified